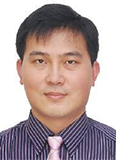 Assoc. Prof. Kuo-Kun Tseng

Harbin Institute of Technology, Shenzhen/ Computer Science and Technology




Biography: Kuo-Kun Tseng is a Shenzhen peacock B class talent, and graduated in 2006 China Taiwan National Chiao Tung University, computer information and engineering doctorate. He has many teaching experience. Since 2010 to now, he is an associate professor of Harbin Institute of Technology (Shenzhen). For professional, from 1994 to 2002, he has many years of research and development experiences, long-term engaged research in the research area of Deep Learning Innovative Thinking and Deep Learning Architecture. The current research results, published more than 75 articles, of which about 35 is a high impact factor SCI/ACM/IEEE series or famous journals, and more than 40 invention patents. Currently, Recently, he has opened two university courses "Introduction to Deep Learning Innovative Thinking" and "Deep Learning Architecture" for a long time.




Speech Title: Brain-Inspired Few-Shot Class-Incremental Learning with Multi-modal Biometric Application

Abstract:Not as good as the human brain, Deep Neural Networks (DNNs) tend to overfit when the training sample is insufficient, and forget the learned old knowledge when learning new. Inspired by the memory replay mechanism and the high degree of generalization of human brains, we propose a new method named BIFSCIL to address this Few-Shot Class-Incremental Learning (FSCIL) problem in this article. First, we introduce an external memory module to save the feature data of all the old classes that have been learned, so as to reduce forgetting by replaying the old knowledge when learning new. Meanwhile, this external memory module can also naturally act as a Nearest-Class-Mean classifier to replace the traditional Softmax classifier. Second, we let the model learn a set of generalized parameters through the meta-learning algorithm. We combine meta-learning with the memory replay mechanism to generate a large number of few-shot pseudo-tasks composed of different types of class-combinations to perform continuous meta-training, enabling the model to understand how to learn tasks rather than just learning a task.

Furthermore, a advanced applied architecture is designed to improve biometric systems as Multi-modal Biometric Few Shot Learning (MBFSL) model. This approach is an incremental learning strategy that uses similarity scores to make predictions on sparse updating data. The proposed application is implemented combining recognition of face, palmprint, voice and signature that can be easy acquired from mobile phone or pad. And it should be the first proposed multi-modal biometric application of incremental learning.